Historical Roots and Progress of Nusayriye
Keywords:
Nusayries, Nusayriye, History of Nusayriye, Muhammet bin Nusayr
Abstract
The Social and Cultural Anthropology, which aims to research different cultures without the limitation of time and place, can be defined, in its narrow sense, as "the Science of the Other". Surely, the best way to ensure various groups of different religion and ethnic roots live in harmony is to get to know these different cultural identities in other words the identity of the other. It has undoubtedly been the best way to ensure the survival of various religious and ethnic societies in peace and tolerance. Among several religious and ethnic groups living in Turkey are Nusayries who adhere to a particular religious sect based on the principle of secrecy. Nusayries have a more isolated and confidential organizational structure compared to other ethnic groups. The protection of tradition and believes which they see as a way to survive a confidently and closed community life. Among prominent features of Nusayriye are deification of Caliph Ali, the strength of Khezr and the shrine beliefs, reincarnation belief, tevil and takiyye and the unclehood tradition. All of those traits which connected to each other as functionally compose of Nusayriye belief system. In this article the emergence of the word Nusayri, the emergence and establishment of Nusayrism after the division of Islam, the pressures on Nusayris are discussed. All this information has also clarified the debate about the ethnic origins of Nusayris. In order to get information about Nusayris, participant observations and interviews were held between Hatay Nusayris. In addition, it has benefited from scientific studies that show an objective approach to the subject. In this review emerge and history of Nusayriye was explained and discussed based on reliable sources and field work.
Downloads
Download data is not yet available.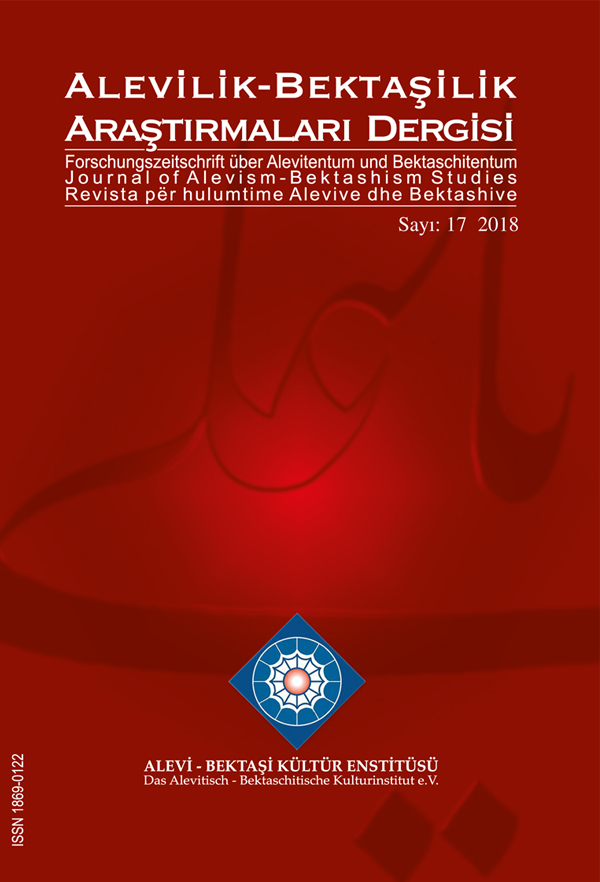 Downloads
How to Cite
[1]
Türk, H. 2018. Historical Roots and Progress of Nusayriye. Journal of Alevism-Bektashism Studies. 17 (Jul. 2018), 51–74. DOI:https://doi.org/10.24082/2018.abked.71.